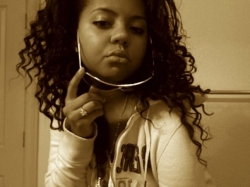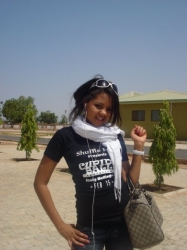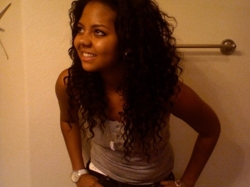 *They Are Silverspoon Babes From Rich Families
          Call them the 'Emerging Big Babes in Northern Nigeria,' you may not be wrong.  This is because these young ladies, who all hail from prominent families, are in a class of their own as they are smart, stylish and sophisticated.  Aside their very rich pedigree, they are on their own properly schooled and trained.  Hence, anywhere they find themselves, they turn  heads and call the shots.  KIKELOMO IWAJOMO presents 25 new, young and pretty Hausa and Fulani babes who hail from Northern Nigeria.
AISHA & ZAINAB ATIKU ABUBAKAR
          These dark-complexioned pretty twins are the children of former Vice-President of Nigeria, Alhaji Atiku Abubakar.  They school in Europe and both of them are very brainy.
ADAMA INDIMI
          Adama is the pretty daughter of billionaire Maiduguri-based Oriental Energy Resources Chairman, Alhaji Mohammed Indimi.  Her sister, Yakolo is married to Mohammed Babangida.  Adama's other sisters Rukaiyah, Amma, Hauwa, and Meram are also very beautiful and they turn heads wherever you find them.  Amma is the CEO of Le Rouge by Amma Indimi, while Rukaiyah is a student at Lynn University.
ZAINAB FODIO
          From the renowned Uthman dan Fodio family of Sokoto, Zainab is a fashionista and this she has brought to fore with the fashion label DECORUM that produces exquisite bridal and evening dresses.  Zainab has rich resume having attended Ivy League high school and University.
HALIMA UMAR YAR'ADUA
          Halima is from the  Yar'Adua dynasty of Katsina State.  She attended Harvard University, where she studied International Relations.
FATIMA AL-MUSTAPHA
          She is the pretty daughter of Hamza al-Mustapha, the Chief Security Officer of late General Sani Abacha.  A multi-linguist, Fatima is a Law graduate from University of Nicosia, Cyprus and is about to complete her master's in Law at IMO –International Maritime Law Institute.
HADIZA MAITAMA-SULE
          Fair –  complexioned Hadiza is from the prominent Maitama Sule family of Kano State.  The crème chic graduated from American University of Nigeria and is a polo enthusiast.
AZEEZA DANGOTE
          Pretty Azeeza is a fashionista any day.  She's always gorgeously dressed.  She loves fashion, culture, nature, and helping out with charity initiatives.
RUQAIYAH RABIU
          From the prominent Rabiu family of Kano, Ruqaiyah attended Nigerian and Turkish International College before she proceeded to University of Hertfordshire.
NABILA MAIDA
          An Imperial College-trained Chemical Engineer, Nabila once worked in the office of the Chief Economic Adviser as an analyst and in  Etisalat (Lagos).
UMMI AS'MAU
          Currently studying Law at Birmingham City University, Ummi is one of the pretty daughters from the As'mau family of Kano State.
RAHMA DANTATA
          Soft-speaking Rahma holds  MA (Marketing) of  Webster University.  She is from the Dantata Family of Kano State.
FATIMA KEMISELEM
          Sleek and sophisticated Fati is from Borno State.  She's finalist at Middlesex University, Dubai where she's studying International Business.
ATIKA ABBAS
          Having graduated from Middlesex University, Atika is doing very well for herself.
JAMILA DIKKO
          Light-complexioned Jamila attended University of Manchester.  She is lovely and fun to be with.
AISHA SAMAILA
          This pretty damsel is from the propular Samaila family of Gombe State.
ZAINAB HAYATUDEEN
          Very unassuming, Zainab, who hails from Maiduguri, is a student at American University of Sharajah in the United Arab Emirates (UAE)
AMEERAH TUKUR
          Pretty Ameerah attended United World College of the Atlantic before she proceeded to a prestigious university.
IMAN ABUBAKAR
          Iman attended Whiteplains Bristish School in Abuja.   She then attended Abbey College in Manchester, UK.  She is a  graduate of Information Technology from Oxford Brookes University in the UK.
NANA SHAGARI
          Fondly called Naasha,  Nana loves shoes, bags, make-up and everything pink.  Her hobbies include traveling, singing, drawing and swimming.
FATIMA MOHAMMED
          Fatima is a student at the University of Virginia.  She before then attended Robert E.  Lee High School where she had her secondary education.